Smooth Travels & Easy Transfers
The Stroll, Sleep & Ride Travel System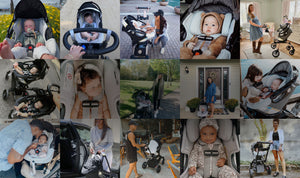 "Orbit Baby is a game changer!"
– Stevie H. (Verified Customer)
One Hub Fits All
SmartHub®
Customize your system with different seating options and positions to ensure seamless travel throughout the days and years.
EXPLORE TRAVEL SYSTEMS
We've Got Your Back
Easy In, Easy Out
Getting baby in the car is easy and painless. Dock at any angle and rotate into place – designed to save parents from extra aches and strains. 
EXPLORE CAR SEATS
All Around Engagement
360° Rotation
Enjoy easy reclining and 360-degree rotation. With our patented technology, Baby can be forward-facing, parent-facing, upright, or fully-reclined.
EXPLORE STROLLERS
A One-Of-A-Kind Stroller
Style Your Stroll
Stroll with your very own signature look and make a statement with our exclusive designer prints, patterns and playful pops of color.
EXPLORE COLORS
Concierge Service
LEARN MORE
Happy Parents, Happy Babies
★★★★★

"Orbit Baby is luxurious, yet practical. Transitions between stroller and car are phenomenal and make running errands such a breeze."

Randi V.
★★★★★

"Extremely convenient and makes life 10x easier. If the baby is asleep in the car seat we can put it directly on without waking the baby."

Anthony L.
★★★★★

"Where do I begin? Love everything about it especially the spinning feature! It's so so convenient!"

Violetta T.
★★★★★

"This is the stroller every woman needs! It's high quality, completely customizable, and has every option you can ever need."


Kristina
★★★★★

"We are always on the go and the travel system just makes our lives so much easier. I love the features. A must have."

Gabriela D.
★★★★★

"This stroller is the G-Wagon of strollers. It's chic, luxurious and everyone legit stops you to look at it."

Katherine M.
★★★★★

"This entire stroller is TOP NOTCH! It is the perfect design and easy to use. If you ever have any questions on anything they're always there to answer them."

Ketia
READ THE REVIEWS
Not Sure Where to Start?
Take our 30 second quiz, and we'll help pick the perfect stroller and car seat for you, your family, and your lifestyle.
TAKE THE QUIZ